Shopping Cart
You have no items in your shopping cart.
WHISKAS Adult Dentabits 50 gr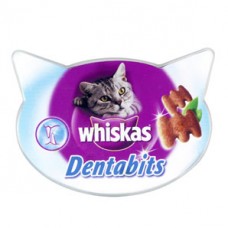 Производитель:
WHISKAS
Модель:
292
Наличие:
Есть в наличии
Цена:
₪19.00
Без НДС: ₪19.00
Brushing your cat's teeth isn't much fun for either of you, so keep her teeth clean and healthy with Whiskas® Dentabits! They're deliciously chewy but have a rough texture that'll give her teeth a good scrubbing.
Whiskas® Dentabits comes in 50g packs.
Please make sure you wait until she's at least 10 months old before giving your cat Whiskas® Dentabits.
Components:
Vegetable protein extracts, fats, minerals, herbal products, milk and milk products
Vegetable protein extracts, cereals, oils and fats, meat, vegetable by-products (1% green tea),
Antioxidants.
Analysis:
Protein 25.00%
Fat 8.00%
Moisture 8.50%
Cellulose 2.00%
Ash 9.00%
Phosphorus 0.20%
IU Vitamin A 9000.0
Vitamin E (tocopherols) 159.0 mg
Vitamin D3 900 l