Shopping Cart
You have no items in your shopping cart.
WHISKAS Adult Anti-Hairball 60 gr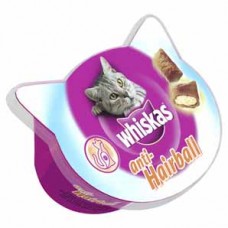 Производитель:
WHISKAS
Модель:
294
Наличие:
Есть в наличии
Цена:
₪19.00
Без НДС: ₪19.00
The formation of hairballs is a common problem which is known by 65% of cat owners. That's why Whiskas Anti-Hairball is the perfect supplement to regular cat food - it reduces hairballs 66%.
Meaty, tasty snack with a practical purpose.
Components:
Vegetable protein extracts, Cereals, meat and animal oils fats, minerals, herbal products, milk and milk products
Analysis :
Crude ash 7.0%
Crude fat 20.0%
Copper sulfate 10.0 mg
Vitamin D 3 900.0 IU
Crude fiber 2.5%
Crude Protein 30.0%
IU Vitamin A 9000.0
Vitamin E (tocopherols) 100.0 mg