Shopping Cart
You have no items in your shopping cart.
VOM FEINSTEN Kitten Beef 100 gr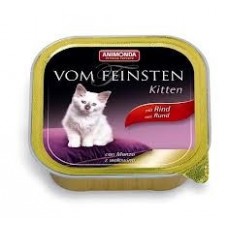 Производитель:
VOM FEINSTEN
Модель:
704
Наличие:
Есть в наличии
Цена:
₪9.90
Без НДС: ₪9.90
Kittens require special nutrition. The mother cat can supply enough energy and nutrients for the kitten up to 4 weeks. And now Vom Feinsten Baby-Paté is here. It is designed for young kittens from 4 weeks of age. Vom Feinsten Baby Paté assists in the change from milk to solid food.
Ingredients::
63% meat and animal derivatives (25% beef, chicken, pork), broth, minerals.
Additives:
Nutritional dietary additives:
Vitamin D3 (200 IU/kg), iodine (0.1 mg/kg), copper (0.5 mg/kg), manganese (1.4 mg/kg), zinc (5.7 mg/kg).
Analytical constituents:

fiber
0.3 %
moisture
80.0 %
protein
10.0 %
ash
2.0 %
fat
7.0 %