Shopping Cart
You have no items in your shopping cart.
VOM FEINSTEN Adult Poultry&Veal 150 gr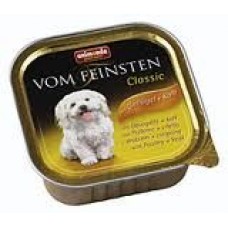 Производитель:
VOM FEINSTEN
Модель:
688
Наличие:
Есть в наличии
Цена:
₪9.90
Без НДС: ₪9.90
The irresistible gourmet meal, not only for particularly choosy dogs. Top quality from specially selected types of meat. With significantly more meat per type.
Ingredients:
Meat and animal derivatives (poultry 25 %, veal 8 %), minerals
Analysis:
Protein 10,5 %, fat content 4,5 %, crude fiber 0,4 %, crude ash 2,5 %, moisture 81 %
Additives per kg:
Vitamin D3 120 IU, 0,5 mg E 4, 18 mg E 6, 1,7 mg E 5, 0,6 mg E 2