Shopping Cart
You have no items in your shopping cart.
GROOMER'S BLEND Ultra White Shampoo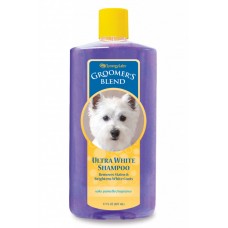 Цена:
₪55.00
Без НДС: ₪55.00
Ultra White Shampoo removes stains and coat yellowing, transforming your pet from dull and dingy to dazzling white and show-ring bright. We don't use harsh chemicals like bleach or peroxide, and have added optical brighteners for enhanced results. Our exclusive Silk Restoration Complex forms a protective shield to lock in moisture and creates brilliant shine. Shampoo frequently for best results.