Shopping Cart
You have no items in your shopping cart.
BELCANDO Adult Dog Meat & Liver 800 gram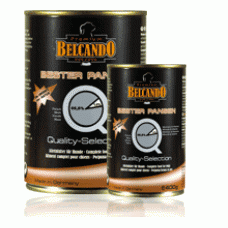 Производитель:
BELCANDO
Модель:
שימורים לכלב 800 גרם בטעם בשר וכבד BELCANDO
Наличие:
Есть в наличии
Цена:
₪179.00
Без НДС: ₪179.00
Wet Food
First, it is important to know that the BELCANDO wet food contains about 80% moisture, so the amount of added water that is required is lower but the carrying weight is higher.
Wet food shelf life is at least two years, when closed. After opening, keep the can of food BELCANDO in the fridge and use its contents within two days.
100 percent taste thanks to pure meat.
BELCANDO's Wet food quality is reflected it's the meat content, meaning that only fresh meat products are used in its making.
Our principle: using only high quality meat. The meat we use is carefully selected from a top beef farm in Germany.
Low quality meat or offal does not enter the production process. This way, the daily amount needed to fill your dog's nutritional needs is relatively smaller. There is a choice of five flavors of meat coated with a thick jelly.
High meat percentage of BELCANDO wet food also raises the appetite of dogs are sensitive and selective. For a winning formula, combine the wet food of BELCANDO with dry food BELCANDO.
By the way:
Even in the wet food we never use preservatives, artificial colors or artificial fragrances, or products containing vegetables that have been genetically modified.
Canned meat and liver flavored:
Meat and liver - 98.8%
Minerals / vitamins - 1.2%