Shopping Cart
You have no items in your shopping cart.
ARM & HAMMER Cat Litter Super Scoop No Fragrance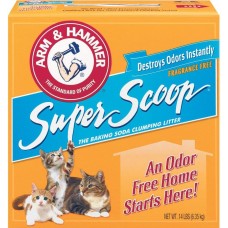 Производитель:
ARM & HAMMER
Модель:
22888
Наличие:
Pre-Order
Цена:
₪89.00
Без НДС: ₪89.00
Keep unpleasant odors and messes under control with this cat litter. The odor block formula and baking soda crystals work to rid your home of foul odors.
Keep your home and kitty's area smelling fresh and clean with Arm & Hammer Super Scoop Fragrance-Free Cat Litter. This fragrance-free cat litter features an ammonia odor-block formula with baking soda crystals that works to eliminate unpleasant odors instantly. The litter also clumps, letting you easily scoop away messes and get on with your day.
For cats
Ammonia odor-block formula with powerful baking soda crystals eliminates odor instantly to keep your home smelling fresh
Clumping formula makes it easy to scoop away messes
Fragrance-free