Shopping Cart
You have no items in your shopping cart.
Rabbits and Guinea Pigs Cage - Cavia 80 + Rabbit + Litter wood pellets + Food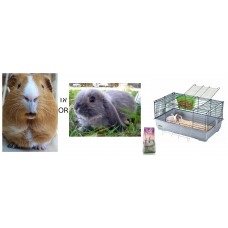 Модель:
102
Наличие:
Есть в наличии
Цена:
₪346.00
Без НДС: ₪346.00
Fully equiped Rabbit & Guinea pig Cage - Cavia 80 inc.:
Food plate
AlfaAlfa stall
& water bottle
A Bunny rabbit (dwarf if possible) OR a Guinea Pig
Litter wood pellets 10 litters
1 Kg Premium Food
Validity:
* Until out of stock.
* To be picked up from our store after Passover with valid original gift certificate!
* Pick up only, no deliveries.
* Actual product Colors may vary.