Shopping Cart
You have no items in your shopping cart.
ADVANTAGE for Cats 4-8 kg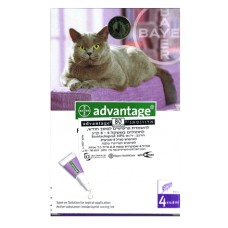 Модель:
2400
Наличие:
Есть в наличии
Цена:
₪154.00
Без НДС: ₪154.00
Fastest Material for Eradicating Adult Fleas
· Stops the ability to sting and bit within 2-5 minutes. Poisonous Touch - no need to sting - eradication before stinging, death within two hours.
· Eradication before eggs are laid - detrimental to circle of life
· Excoriation of larvae within 20 minutes, before the incarnation (direct contact \ dead skin)