Shopping Cart
You have no items in your shopping cart.
FLEAMAT Spray for Dogs against Fleas & Ticks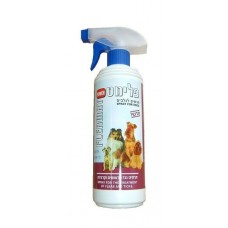 Модель:
320914
Наличие:
Есть в наличии
Цена:
₪55.00
Без НДС: ₪55.00
Spray prevention and pest control of fleas and ticks in dogs from the age of 4 weeks.
The spray does not contain alcohol and should not be used on cats.
Instructions: Spray the dog's coat against the direction of growth of hair, close to fur. You can repeat the process once a week.
Warnings: Do not spray puppies under 4 weeks. Do not eat, drink or smoke while using the spray. Avoid inhalation and swallowing the spray while it's being sprayed avoid prolonged contact with the material.
Storage: Store the product in a locked place without food, beverages or animal feed.